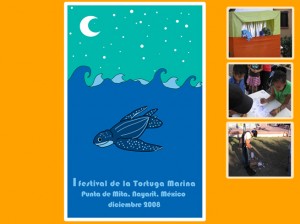 During 2008 and 2009, I worked with Peace Mexico, developing educational workshops and projects, being a teacher in public schools and as a teacher trainer.
All this work was based on bringing education to people as a way to enjoy, understand and be sensitive to the local nature and culture. Not only education in the school, but knowledge for everyone, always respecting the local community.
I developed my own didactic techniques and resources, with special emphasis on interaction with students, arts and local tales, and trying to dissolve the hierarchy between student and teacher. I teached ecology, environement, nature science, biology and english, and made workshops about painting, crafts, recicled musical intruments, cooking, etc.
Knowledge and sensibility is all around, in every local region, and as a teacher, I tried to bring local people to the classroom to interact with students. Not only "educated" people, but also mothers, old people, etc. from the community, to make them participate and open the school to everybody as a place to gather and share knowledge and sensibility.
One example of this work:
The Marine Turtle Festival
"This event tries to bring the community into the school and share the knowledge and sensibility we have for nature.
All the profit is going to be for the school.
Enjoy yourself while you learn, make the marine turtle rally, listen to the talks about marine turtles, birds, and local wildlife, participate in games, contests, ruffles, eat exotic food, etc…
The students will be there to show you all about the marine turtles."
These are a summary of the main characteristics of this festival:
Didactic Posters about the biology of the local marine turtles.
Exhibition, with hundreds of drawings, crafts, and tales, made by the children of the local schools.
Origami, Drawing, Recicled-Turtles, etc. Workshops; all about the marine turtles.
Muppet Schow about marine turtles and their hazards…
Turtle Models done by the children and University students.
Games, Contests and lotery about marine turtles.
Talks and Videos.
International food made by student's mothers.
Crafts made and sold by the students.
Music.
Etc.
And, the "Marine turtle contest", a contest based on 10 games that players do to complete the rally and obtain the knowledge cetificate and a present.

The Web Page of the Festival (in Spanish):

http://tortugasmarinas.wordpress.com/

A photo gallery: of the event:

The

Flash Player

and a browser with Javascript support are needed.

The posters presented:

The

Flash Player

and a browser with Javascript support are needed.

Download the posters in a .zip file: